The longest continuous football rivalry in Collier County began on Thanksgiving Day in 1974.  The "Coconut Bowl" was the brainchild of the school principals - Clyde Quinby from the upstart Lely Trojans and Dave Jacobs of the established Naples Golden Eagles. Naples High was split into two schools with Naples High remaining on the North side of town and Lely taking over in East Naples.  The winner of this fall classic would lay claim to the "Nut", and keep it until the next game when once again, it would go to the winner.   Lely won the first contest, and the next 24 games were split with Naples winning 12 and Lely winning 12.  Since then, Naples has dominated the series, taking an overall 31-15 advantage in games won.
In 2012, history was made again as the name of the trophy was officially changed to the "Joe Klimas Trophy".  Joe was a legendary broadcaster in Collier county and had been involved in the first 38 Coconut Bowls.  Joe had planned on retiring after the 2012 game but lost his battle with cancer before he could sign off one last time.  The Joe Klimas trophy is a fitting tribute to the man who was our broadcaster, our inspiration, and most importantly, our friend.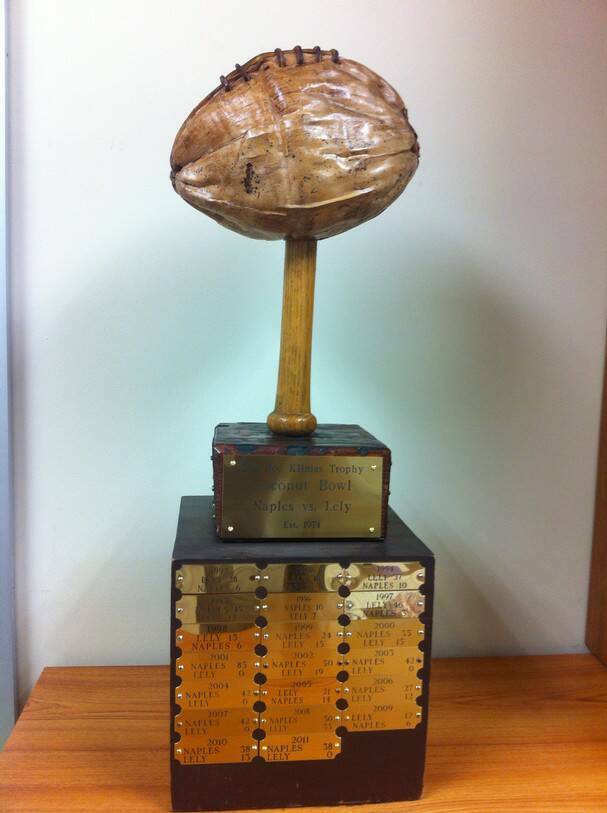 The "nut" remains in the Golden Eagles Trophy case after Naples beat Lely 45-0 on Friday, October 5, 2018, at Trojan Stadium.